Steel gate designs
If you cannot see a design to suit your entrance we will gladly help you to design your ideal gates and construct them in our fabrication workshop.
We can construct any gate of any size, from the very basic, to highly ornate.
Our quality steel gates are powder coated as standard in the colour of your choice and can be hot dipped galvanized to prevent corrosion at a very reasonable cost.
At Electric Gates UK all of our metal gates are fabricated with swing or sliding gate automation in mind meaning they are consequently stronger & more durable than standard "off the shelf" gates. Our metal gates & railings are constructed from high quality mild steel which is welded & shaped by tried & tested techniques. We use a rolled hollow section for the outer frame and midrails, to give extra rigidity and minimise "gate wag".The size of the frame and midrails is determined by the actual size of the gate being constructed. The internal bars & ornamental work are solid, forged or cast. All of our metal gates are powder coated rather than painted, giving a long lasting, hard wearing finish to your gates.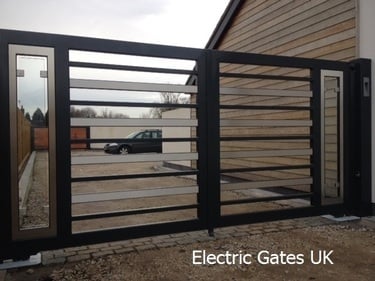 We are proud to announce a new addition to our range of steel gate designs.
With a fresh modern appearance, our new gates incorporate brushed stainless steel accents in addition to toughened safety glass aperatures
to either side of the gates.
The gates pictured, were requested in "Ral 7016" dark grey but can be powder coated in the colour of your choice.
For longevity, all our steel gates are hot dip galvanised to prevent corrosion to give you a totally maintenance free set of gates.